Floor Cleaning and Polishing London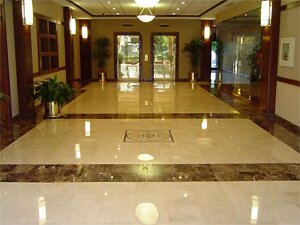 Floor polishing is not only cleaning, but also restoration of your stylish floor to its optimal condition. Regular floor buffing and repairing keeps the surfaces stronger, not to mention the extremely attractive look. We provide professional floor polishing both at residential and commercial spaces in London. Our technicians have specialized in natural stone, concrete, as well tile and grout cleaning, using the latest techniques in the industry.
A well polished floor looks fantastic and complements any interior. We perform general thorough cleaning of tile and grout, and several stages grinding of stone flooring, when restoration is required. Our equipment is the very innovative in the polishing field, therefore we accomplish stunning results. We use diamond pad abrasive tooling for different levels of sheen according to your preferences. Whether with high or smooth gloss, your flooring will be exceptionally clean, brighter and admirable.
Diamond polishing pads tooling
Marble, granite, concrete polishing and restoration
Tile and grout deep cleaning
Natural stone worktop polishing
Hard floor surfaces buffing and grinding
Marble, granite, concrete polishing and restoration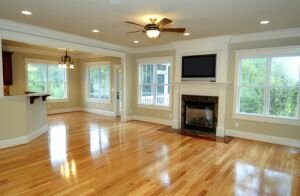 Natural stone made surfaces, such as marble and granite, are beautiful and hard wearing, but still need regular maintenance to preserve their qualities. Stones are porous by nature and easily absorb dirt, sometimes get scratched or crannied. We provide excellent floor polishing service throughout London using high speed diamond polishing pads, repairing and shining the surface to perfection. The same technique and diamond tooling are applicable for concrete floor polishing, acquiring the same gorgeous appearance and great reflectivity as marble and granite floors.
If you are in need of home or business makeover, we are here to revamp your tired flooring. Our floor cleaners combine experience with continual improvement and training, in order to deliver the best floor cleaning, polishing and restoration available in London. Using diamond pads equipment is the best for not harming the environment. House Cleaning London Ltd will be glad to engage long-term with your hard floors and bring them the brilliance they deserve.
If you need floor polishing services, expert advice of free estimation, feel free to get in touch with us on 020 3026 6016 or at Booking Form.
In order to make you feel comfortable, we perform floor cleaning in these districts:
Greenwich
,
Notting Hill
,
Blackheath
,
Mayfair
,
Holloway
,
Maida Vale
,
Muswell Hill
,
Barking
,
Camberwell
,
Paddington
,
Our happy customers` reviews
"Always professional and paying attention to details! Thank you for your services! "
Neil, Battersea
"I have used many different services before but you are dependable, professional, and have great pricing."
Mrs. Wilson, Finchley
"Thank you and your team for your great work and attention to details!"
Richard, Fullham
END OF TENANCY CLEANING
CARPET & UPHOLSTERY
REGULAR CLEANING
OTHER CLEANING