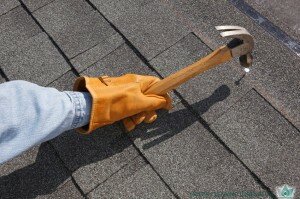 Are you one of those people who constantly procrastinates house duties? Procrastination is a bad habit but still, many of us like to postpone the boring tasks around the house for the next day. Unfortunately, some problems like such as a leaking roof should be fixed right away or you risk damaging your property and therefore, your financial condition. If the leakage is severe, you will probably need the help of the professional roofing technicians. On the other hand, if the leak is not that serious, you can try fixing it by yourself and save a lot of money. Here are some useful tips and techniques for dealing with minor roof leakages.
Firstly, you should do your roof fixing in a sunny day when the roof is completely dry. It is very dangerous to walk on a slippery roof.
The most common roofing material in the UK is the interlocking roof tiles. Roof tiles are most often made of concrete coated with coloured paint finisher or a mixture of paint and sand called "sand faced". If one of these roof tiles gets misplaced, a leakage that cause molding on the insulation and the wood construction may occur, which is not good at all. This can be a real issue when it comes to end of tenancy cleaning London. Try to locate the problematic tile and place it how it should be.
The other common type of roofing in the UK include the plain tiles. They have no interlocking and curves on the edge like the interlocking tiles. Plain tiles are usually overlapped twice by the tiles above in order to prevent leakage. They are a little easier to replace. However, try to locate the leak before it ruins your carpet, or you will need London carpet cleaning services.
Use ladder framework to secure yourself from falling.
Remember to always use safety ropes and rubber-soled shoes when you are on the roof.
We hope these tips were useful for you next time there is a roof leak in your house.