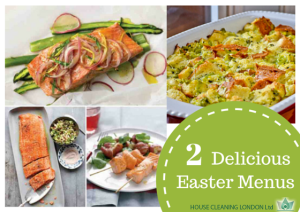 Easter Holidays are approaching and the festive fever has already conquered most people. We look for decoration ideas, DIY crafts projects and of course recipes for some tasty meals to cook. For those of you who insist on flawless dishes, we have prepared the list below:
Laid-Back Easter Brunch – this wonderful no-fuss brunch menu is very tasty at room temperature. It may be cooked before or on the day of the Easter fun, it's up to you. We advise you to serve this meal buffet-style and enjoy the communication with your guests. This great menu comprises spring salad with herbs; cinnamon-bun bites; cheese, leek, and herb soufflé casserole; for dessert prepare raspberry custard tart. When it comes to beverages, offer minted mandarin and strawberry coolers to your guests. They will be charmed. Is it necessary to remind you not to wait the last minute to arrange the visitation of the spring cleaners?
Spring Salmon Supper – you can celebrate Easter and spring together with a fresh and very easy to prepare dinner menu. Here all the components are simply roasted and may be served at room temperature. The appropriate decoration are some blooming branches, gathered from your yard. Group them in several juice glasses or carafes – no matter. This menu includes barley salad with herbs and tasty salmon with cucumber-radish relish. The proper beverage is nice Lillet rose spring cocktail. If someone spills this drink on your carpet, call immediately the local carpet cleaning specialists and don't worry at all.
No matter which one of both menus you will choose, your success is guaranteed. Browse the web for the detailed recipes and start your cooking marathon! Smile and have fun! Make yourself some unforgettable Easter memories!