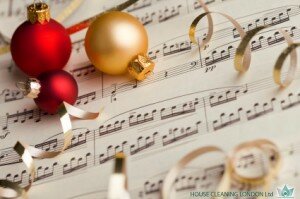 One thing is guaranteed – once you get into December, Christmas songs are inescapable. They are played everywhere – department stores; ice rinks; live events; tv ads; Christmas movies; shops all around the city. They may be even sung by that smiled dancing Santa you already wish you'd never bought to your kid. Resistance is redundant, Christmas music is literally at every step. In this article, we'll try to list you some of these songs, that have become evergreens. Download these chants in order to find your favourite track:

"Santa Claus is coming to town" – there's no way, you definitely know that piece of music. It's perhaps the best tool parents apply to keep their kids in check throughout the year: "Santa perfectly knows if you've been bad or good child, so be good for goodness sake!" The rockin' version of Bruce Springsteen is the fifth most played Christmas song since 2003 in the UK. Whether you're just relaxing on the couch, or you intend to start your end of tenancy cleaning session, play that song and enjoy its wonderful rhythm!

"Let It Snow, Let It Snow, Let It Snow!" Also famous like "The Christmas Song", this canto was created in sunny California during one of the hottest days on record! Isn't it ironic, don't you think? Do you know that while "Let It Snow" certainly marks the wonderful and festive season with its cheery text, the word "Christmas" is actually not mentioned. It's also interesting that both the composer and the lyricist were Jewish. You are waiting for the local upholstery cleaners? No problem, put that track on and welcome the technicians in a wonderful, festive mood!

"Jingle Bell Rock" – the original rockabilly version of this track is to Bobby Helms. It's great, there is no doubt about that. However, anyone who's seen Mean Girls will conclude that the only way to enjoy this piece of music to its maximum, is to watch Lindsay Lohan and 3 Santa's helpers dancing. Do you agree?
Happy listening and merry Christmas!