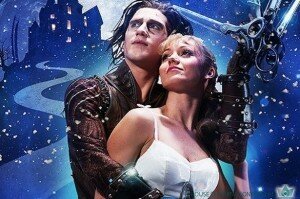 London is famous with its cultural life, everybody knows that. Every single day, there are so many shows, musicals, theatre plays, ballets, that there is no way to be bored, that is guaranteed. The time around Christmas holidays is even more saturated with amazing show programs. In this article, we have picked for you a delightful dance adaptation, called "Edward Scissorhands". Check out some more detailed information!
Where and when will the event be held? Remember this address: Sadler's Wells Theatre, Rosebery Avenue, Clerkenwell, London EC1R 4TN. The duration period of the performance is from 2nd December 2014 to 11th January 2015. So you have enough time to decide when to go, but don't miss it for anything in the world! Prices vary from £12 to £55, so you can buy a ticket, complied with your budget.
Matthew Bourne is the person who leads Edward Scissorhands to Sadler's Wells this snowy Christmas. If you remember, this man has given without a hitch new renditions to famous classics such as Swan Lake, Cinderella, Nutcracker and Sleeping Beauty. Now it's time for admirable dance adaptation of the classical 1990 Tim Burton's movie in which Johnny Depp plays a boy, who has scissors instead of hands. The main role of Edward will be played by Dominic North. He is an excellent, very strong dancer who re-creates the pathetics of the character with finesse and sophistication. The other star in this awesome show is Lez Brotherston.
The Middle-American suburbs are established by rows of minimalistic candy-tinted summerhouses in ultimate perspective. Just as all Bourne's shows, Scissorhands has its own sophisticated small bonuses. Are you ready for amazing surprises?
There is no place for doubts, because this show will rock your world. Ensure yourself a ticket and prepare for a glamorous dance performance!