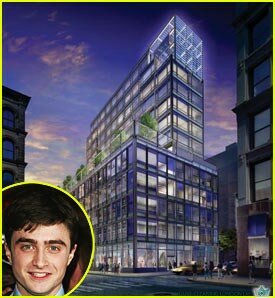 Daniel Jacob Radcliffe, who is mostly known as the magician kid Harry Potter, has made a huge advance in property sales. It turned out that property market sounds like a really attractive magical spell for the young actor. He has already made his first purchases and sales. The results, as a matter of fact, are highly impressive. Being enhanced by the property trading, Daniel has recently decided to add his own first home to his agenda property sale lists:
The first formative years for the only actor, who can play Harry Potter, are situated in an authentic white and solid two-floor residential house in Fulham, London. Daniel, himself, claims that the area is quite amazing for growing up. The church is near. The neighbours are kind. And it seems like they have came out from an old retro movie from the 60s, when living door to door means almost kinship.
The wizardry house isn't that magical at all, though! The 4-bedroom apartment, even though redecorated and renewed, is yet the typical British home place, where harmony, amazing snugness, achieved by excellent house cleaning, and functionality are top features.
The real proof for this statement is the fascinating spacious and so practical kitchen in white – just like the building nuance. This collaborative relation between the nuances is indicative. Indeed, kitchen is the premise that unites and gathers the family. That what Daniel reminds of his own house and family, too.
Going ahead the living room, still, the British homey environment can be felt. Chaotic decoration of painting that expose English aristocrats, green plants in plain pots, modern high-tech additions and the library, is wonderful. One single rug with retro ornaments and practical laminate floor are keeping the idea of less carpet cleaning and more relaxing on the soft and welcoming sofa.
And if you finish your Daniel Jacob Radcliffe`s home tour with the bedrooms, you will easily feel yourself here like home. There is nothing weird and nothing too Hollywood! On the contrary – the arrangement is ordinary, the decors of art are preserved, while the large high British beds are taking the roles of the accents.
Daniel Jacob Radcliffe`s home in Fulham is still on the market. Want to have a look and feel the magic of imagining living here?