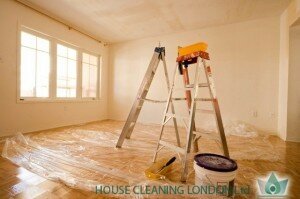 Home repairs are the worst nightmare of many housekeepers all around the world. Maybe you have survived at least one reconstruction process in your life and you perfectly know the entire chaos at home. The deeper the overhaul, the harder the cleaning process afterwards. After the renovation procedures, all you see is a construction site. There are remains of glue, plaster, stains of paint and industrial dust. The windows are hazy, because of the dust layers, the toilet and the bathroom premises are repulsive. Actually, the only way to get out of this tricky maze is to undertake thorough sanitising session. In order to help you with the checklist of tasks, here are some valuable guidelines. Follow them and discover the real beauty of your renovated home area:
First of all, remove all the scattered building instruments and plaster remains. In fact, you have to empty the premises from all construction debris, nylon, buckets with paint, brushes, roulettes, tape measures. Put everything at its place. Act slowly and carefully, accomplish all the household chores with diligence and patience. This is not a last minute cleaning procedure, there is no point in being in a hurry. After the builders are gone, only comprehensive sanitising and disinfecting actions are necessary.
After you have free access to the floor, the carpets and the surfaces, undertake floor mopping, polishing of different worktops, hoovering of carpets and rugs. If you haven't removed all the carpets during the reconstruction, maybe you will need professional assistance. Use the vacuum cleaner to suck most of the cement dust.
Remove the nylon, who has covered the furniture in order to protect the upholstery and the wooden parts from dust and damages. Refresh with damp cloth and appropriate spray detergent. Hopefully, your stylish leather furniture is unharmed.
Buy a commercial cleanser, that eliminates the accumulated dust, grab a clean cloth and remove the industrial dust, left after your hoovering.
Don't miss to wipe the windows, as a part of your after builders cleaning! Ensure yourself sunlight in your renovated rooms. It will be wonderful!