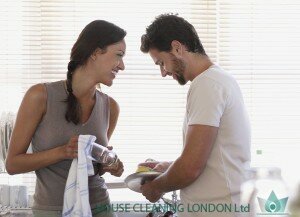 In an experiment or an inquiry what the hardest cleaning job is, the answers must be very different and various. Some housewives will point hard floor polishing, because usually it can't be done with a simple DIY project and professional company is needed. Others will tell you that bathroom disinfection and scrubbing the toilet seat are so revolting tasks that they actually become the hardest, too! Mattresses sanitising and windows cleaning from the outside aren't easy housekeeping chores, either! However, you may forget one very substantial and very difficult task – making your husband clean and assist you in mopping, wiping and stain removal! To tell you the truth, this household chore sounds more an impossible than a harsh one. Though, if you play your cards well, you may eventually succeed in convincing your better half to be your partner in house sanitising, as well! See some good and sly tips for this task:
First of all, be nice and gentle! No man will help you, if you shout at him "Oh, hell! Do the dishes!". On the other side, if you ask politely for some assistance and add your most beautiful smile, the result may satisfy you, actually!
Define the disinfecting job as your biggest problem! Explain that some of the housekeeping chores are too harsh and unpleasant for you. Make it sound that it is not about your inability or reluctance, but about your unsuccessful attempts!
Involve your husband in housekeeping! Share with him your newest ideas for some home improvements or redecoration conceptions! Eventually, he will start looking at the house maintenance differently. One day, your husband may offer you to refresh the upholstery together, so you can finally lay the newly bought carpet!
Don't be too critical! Judging too much a man, who makes attempts in cleaning the windows or sanitising the surfaces, is a huge mistake! This could be his last try to assist you in housekeeping at home! On the contrary, praise him even more than he disserves, too! This will please his ear! The next time he may even want to overtake some more sterilising tasks to achieve your approval again!
You know that you need a gentle approach and special tactics, right? Use your imagination and enjoy your neat and tidy home with the assistance of your husband!