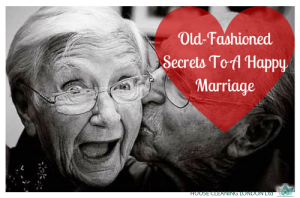 Marriage is a complicated relationship that binds two families together and builds up trust and connections that may last for a life time. However, it should not be taken for granted. What lies underneath the very foundation of a happily married couple? Would it be the love? Or is it something else? Here are some old-fashioned, but still true secrets of a happy marriage:
Happy does not mean perfect. There has been a survey showing that married to only one person people live longer and fuller lives. It is essential to understand that marriage can be tough sometimes, but this is what makes it stronger- the ability to go through anything – "for better or worse" as the vow goes. The common goal set by the ring exchange provides the eternal energy to fight back all negatives.
Expectations should be realistic. For sure, the glowing and initial power that binds two people is love. Yet, as time passes and years start to roll, love may seem like a fair memory of good times. Marriage is not always roses and romance. It naturally will come down to having to decide to which carpet cleaners to take the rugs, or what will be the least expensive vacation to go to.
Arguments that make it last. While some couples argue passionately, others prefer to lay low. It is "how" they argue.
Compliment more than criticize. One of top management and psychology rules. Compliment in public, criticize in private. Always maintain a positive view of the partner in society and keep the negative words for a conversation face-to-face. A simple duration of a domestic cleaning will be enough to get everything sorted and well discussed.
Yet, there are marriages that have not been meant to last – the ones that are based on lust or any kind of benefit. But when it comes to soul-mates……Love is all they need and a little effort, of course.