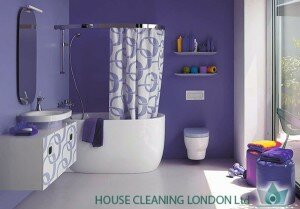 Bathroom organisation, maintenance and decorating may become very hard tasks. If you do not know what to start with or just simply wonder how to achieve a better bathroom, use our simple tips. Low-cost and very efficient, they will give you the stylish bathroom you have ever wanted. Here are the 10 steps to improve your bathroom:
Find the perfect storage solutions. The best way to do this is to keep all the related items at one place. For instance, make a huge hanger for all the towels and install an extra compact shelve or cabinets for your cosmetic stuff.
Go for a luxury divider. Why not making a space for her and for him. Thus, you will stop grumbling at your spouse that he has emptied your hair conditioner again!
Forget about storing unnecessary things. Keep in mind that this is a bathroom, but not a basement or a closet. It is not even a kitchen pantry. Reduce the mess and remove the cleansing detergents, as well.
Ok, there is one extra thing you can add to your bathroom and save some space for the rest of the rooms. Create a wonderful medicine cabinet behind solid doors or mirrors. Do not expose the medicines on humidity, because they might spoil.
Sanitise the bathmats by using your most favourite carpet cleaning solutions. The wet mats might spread disease and allergens, so do not leave them not disinfected.
Consider extra ordinary colours for your bathroom, when you feel like decorating. A red paint on the walls or bright green items on the shelves will make the bathroom look amazing.
Change the items in the bathroom on a regular basis. Towels, toothbrushes, showerheads and taps waste, so invest a little bit money for them once in a while.
If you have a super large bathroom, take the advantage! Make a small laundry room or install an entire wardrobe for towels and hygienic personal belongings – yes, including your makeup supplies.
To preserve the perfect hygiene and have your bathroom always pure and shining, use expert regular cleaners for seasonal refreshment.
Bring in artistic lighting system to create an awesome spa therapy zone for your personal bathroom relaxation.