End Of Tenancy Cleaning London

End of tenancy cleaning of your old house is usually the last chore you would want to deal with, but is something that you can avoid having to do by yourself. The end of your lease is the time when you would usually like to focus on moving into your new house and turning it into a real home. If you are overworked by moving home, cleaning and tidying up, we can help out. What we offer is an end of tenancy cleaning service done with care, diligence and devotion.
Guaranteed end of tenancy cleaning services
Full deposit refund
Top to bottom cleaning
Personalized service
Advanced technology
Before you hand over the keys to your landlord, the property you are vacating should be able to meet a certain level of cleanliness and hygiene. End of tenancy cleaning is your key to receiving your full deposit back, and therefore a professional, thorough approach is crucial. Our service is not hourly based, and constitutes a complete top to bottom cleaning, which means that our technicians will stay as long as it takes to fully clean your house to the last tiny detail. End of tenancy cleaning is a guaranteed service and if for some reason your inventory check fails, we will return for a free of charge re-clean.
What does your end of tenancy cleaning include? Removing cobwebs, thoroughly vacuuming carpets, damp mopping hard floors, limescale removal, sanitizing bathrooms and toilets, degreasing and cleaning kitchen appliances, damp wiping and polishing surfaces, cleaning cupboards and wardrobes on the inside and outside, cleaning fixtures, fittings, woodwork, and washing windows from the inside.
Pre tenancy cleaning London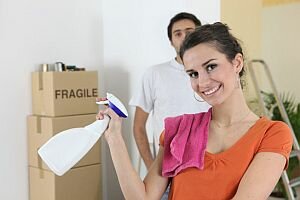 Pre tenancy cleaning is our service tailored to people who have found their dream house or desired office in London and want it perfectly clean before moving in. You can use the advantage of all units being empty and accessible, so that even the hardest to reach areas will be thoroughly sanitized during the pre-tenancy cleaning. Before you even unpack we will have conducted superb pre-tenancy cleaning to make sure your home or office is completely prepared for your arrival.
The efficiency of pre-tenancy and end of tenancy cleaning depends on the technology used and the expertise. We provide personalized service in compliance with safety and environmental standards and your deadline. We offer concrete solutions in pre- and end of tenancy cleaning: a disciplined organization, a motivated team and the right equipment that guarantees effective results.
Please take the time to also look at our additional services, related to end of tenancy cleaning: external window cleaning, floor polishing and restoration, upholstery steam, dry and leather cleaning, carpet steam and dry cleaning, which all come at a discounted rate with your end of/pre tenancy cleaning service.
We are always happy to assist in end of tenancy and pre-tenancy cleaning, and we will provide you with extensive information and precise quotation, when you call us on 020 3026 6016 or use our on-line Booking Form.
In order to make you feel comfortable, we perform end of tenancy cleaning in these districts:
Greenwich
,
Notting Hill
,
Blackheath
,
Mayfair
,
Holloway
,
Maida Vale
,
Muswell Hill
,
Barking
,
Camberwell
,
Paddington
,
Our happy customers` reviews
"The End of Tenancy cleaning went very well and I am absolutely pleased with the results. I would definitely use your company again."
Diane, Bromley
"I would just like to say how fantastic your cleaning service is, it is making our lives much easier and is saving us a lot of money on deposits!"
Jerry, Balham
"Your cleaning crew did a fantastic job at the End of Tenancy we had yesterday. They were very thorough and professional."
Pouline, Kensington
END OF TENANCY CLEANING
CARPET & UPHOLSTERY
REGULAR CLEANING
OTHER CLEANING