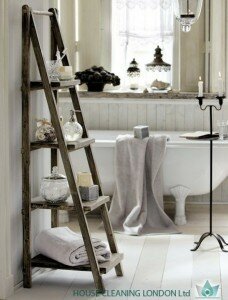 Contemporary interior design ideas adopt different weird things to make your home more attractive, artistic and original. We have come up on some really fascinating, decorating ideas that involve real ladders. Some of them, on other side, are quite practical to be used since they give you an extra storage solution, too.
See how to use the ladder in the interior design and get more of your interior – make it look like a home of a really creative person. Besides, these tips will help you put the ladder somewhere at home – in an adequate way – without wondering how to accommodate all your things in a small living space:
Bedroom night stand. You can hang a bedside lamp for your favorite evening reading and place a book on its opened side. A bouquet of dried flowers can be added as a lovely adorning feature, too!
Display your rich shoe collection. Who needs a shoe wardrobe, when an ordinary ladder can help you to boast with the latest Dolce and Gabbana's shoes in front of your jealous friends?
Creative photo ladder. Proud of your daughter's final law graduation? Well, it is high time for you to show you how much you are happy for her. Display all that diploma photos on the ladder in your rustic living room!
Make an awesome chandelier from a ladder. Install it in the dining room, where your favorite set of wooden dining chairs are. Tie the ladder with thick ropes and hang lanterns. You can even use real candles and save money from the electricity, which will finally make it affordable for you to hire professional house cleaning services!
Brilliant kitchen rack. Your small kitchen will simply love it. You will finally have all your pots, pans and giant cooking utensils at one place!
Stunning plant stand. When the garden is overloaded and the sills are out of empty space for your favorite flowers, the ladder will accommodate them!
Laundry room organiser. You can hang the clothes for ironing, here. Also, you can store the ladder here with all your cleaning tools and detergents. So, when the end of lease cleaners come, everything will be at hand – including a ladder for reaching the ceiling corners full of cobwebs!