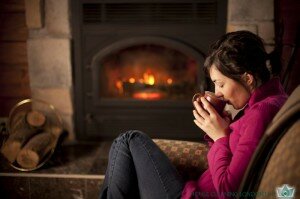 It's almost winter and you need to make home improvements? Concentrate on a fireplace image and see what you can do to transfer part of its coziness right in front of you.
Keep the cold outside. Start with the drafts from the door. Use draft stopper to put behind the door. It looks like snake that has swallowed rolled carpet. You can find them in the stores in different patterns. There are also special ones for children's room – with animal head in the end and matching "body" coloration.
Lights up. Except the actual warming of the room there are other things that you can make to feel better inside, like changing the light. Depending on the size, the color of the walls and the exposition of the room, you may reduce or improve it. For north and western rooms, use stronger light and for the eastern and southern dimmer. Add some extra lamps that can be turned on while cooking, reading or working in the areas. If you don't want to invest in big expensive lights, use moons with chargers. They can be attached to the walls or furniture and when the end of rental cleaning comes, you can just gather them in a box and move them.
What's cooking? Cooking is one of the activities that make your home cozier. Most kitchens are part of open plan spaces now, so don't hesitate to turn your own into one of them, if it isn't yet. Although it makes the space bigger, the warmth from cooking will spread all around and will make the heating easier.
Window strips. Use them to improve your window frames if they let cold flows in. There is big diversity on the market but some of the best strips are made of rubber similar material. It's flexible and easy for application and removing during window sanitising. Remember to clean the frames very good before putting the strips, this way they will stick better and will be more efficient.
Coziness of a home cannot be made just by decoration improvements. Often gather with your family and friends at home instead of going out. This will give your home an atmosphere that you will be able to enjoy long after the party is over.