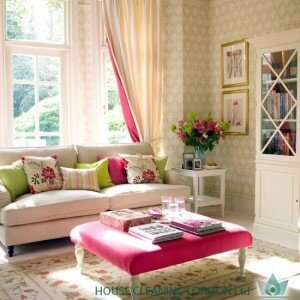 Have you ever been in that place when you want to do something to feel better in your home but you don't want to sweat and spend too much time to put the things in order or to dust furniture and to scrub floors? There are a couple of "fast" ideas you can use.
Add a piece of art: if you want just to refresh the atmosphere of your place you can add some artwork here and there – a vase with flowers or a couple of plates, some decorative pillows or series of pictures can give totally different look. Be creative! Choose a style and dive in it, no matter if we talk for 50's glamour or belle époque charm.
Repaint. This is one easy way to add new sense in old furniture or room. Bold or soft, more than one or monochromatic – choose and grab the brush. Even if you are one of those handy persons with touch for painting you can make different colour details or put rosettes or whole pictures on the furniture (more adventurous idea: turn the wall into a panel).
Do you feel like housekeeping takes too much time? Mostly women, but not only, complain how much of their time is spent in cleaning, ironing and other home essential activities. Easy solution: hire expert domestic cleaners. The company will send to your home private house cleaner to clean and to fulfill your housework requirements – ironing, dish-washing and etc. Companies offer flexible schedules (daily, weekly visits and so on) and wide range of services; all depends on your desires. Why not spending some quality time with your family or friends while someone else takes care of your house?
Add some scent! Many times we build our perception of a room by the aromas that fill it. You don't need fancy decoration or painting skills, go to a drug store or the supermarket and pick air freshener, candles or scented sticks. They can be also a touch to your interior – romantic, charming or fancy (sometimes all together).
Do you want to change your home and you don't want to spend a couple of days in cleaning, windows washing and floor scrubbing to be able to get your money back from the landlord? You can search for cleaning company that offers end of tenancy cleaning – they will take care of the whole house – kitchen, bathroom and any other room.