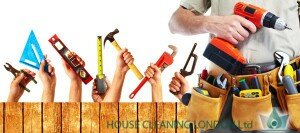 Who was the first DIY-master? Have you ever wondered about it? And do we have to take it like something very special when someone decides to build something on their own? Our ancestors have no other choice but to do everything on their own, so why it is so amazing today? Do you have the traits or the will to become DIY master? See for yourself what's needed.
Repair. If you see something that needs repair not like mission impossible but as an opportunity to show your creativity, you definitely are on the track for DIY-master. Positive view is one of the main traits that should be mastered. Problem is not a problem if you see a solution.
Change. Do you look around your hall seeing objects with unused potential? Heavy tall vase can be beautiful accessory but also leg for a table. Old TV set can easily turn into beautiful display for your children's art attempts or for a stand of the flowers. If it's stable enough you can even use it as a bookshelf. Everything around us is full of potential!
Try again. Even carpet cleaning specialists didn't become such experts at once. DIY-masters understand that the way goes through a lot of effort and broken chairs and players. Also in this stage is good to accept that some things just can't be mended, for them is point two.
Create. The real DIY-master can't stand doing nothing. Not only he repairs everything around home and sometimes the home of the neighbors, but his free time he spends searching for inspiration in sites, guides and among friends. This way the back-scratcher and the bike-fan were created.
Invent. This is one step further of creating because it requires the lack of similarities. Inventions are unique, at least till they are invented, think of Leonardo da Vinci. He probably had someone to do the domestic cleaning for him, so he can invent. But if you are about to be master, you need to master all home activities.
So what you think now? Are you able to master the abilities and to gain the needed knowledge? If you answer yes and you are still in step one, better get back to practicing. It's not that easy as it seems.